World Contraception Day takes place on September 26 every year. The campaign's mission is to raise awareness about contraception and to enable young people to make informed choices on their reproductive health! With that in mind, PHC's Family Planning Program Manager, Tracy Menter, shared helpful information about the different contraception methods, and what PHC offers patients.
Birth Control Method Options
When it comes to choosing the contraceptive method that's right for you, there are a number of factors to consider:
How effective is it? 

How do you use it? 

Can it reduce the risk of STIs as well as pregnancy?

What are the possible side effects? 
Below is a chart from the Reproductive Health National Training Center that providers often refer to when helping their patients consider their birth control method options.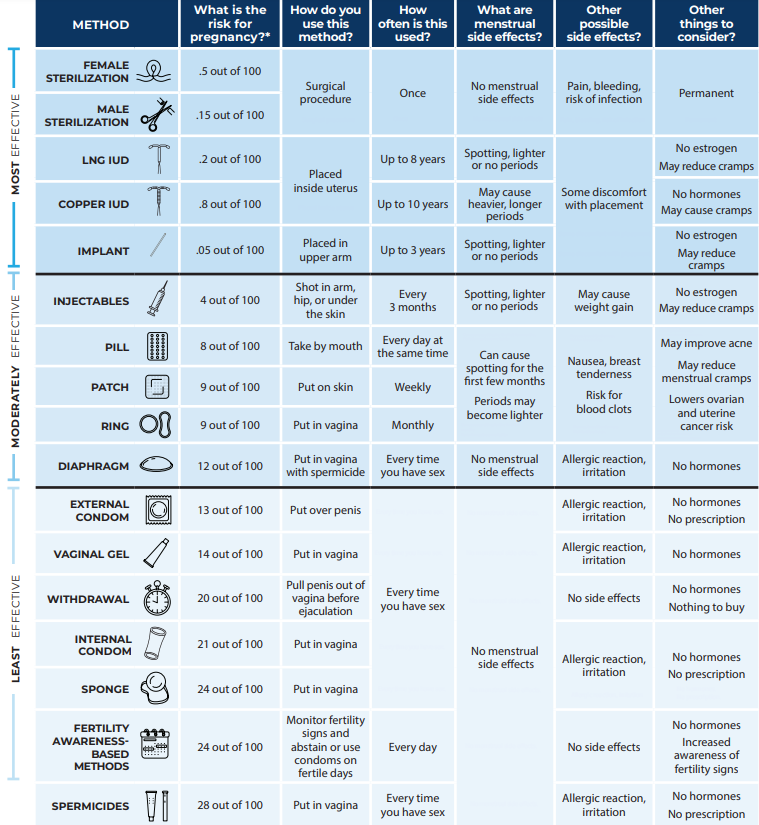 PHC's Contraception Offerings 
Depending on the availability of a contraceptive, most of our clinics offer Depo injections, Nexplanon insertions, and IUD insertions. Through the Title X Program, PHC's clinics in Marshalltown and Ames both offer a variety of birth control pills, the patch, and the ring for patients who qualify. They also offer Nexplanons and IUDs at a reduced cost (determined by income) for those without insurance. Additionally, all of our clinics offer free condoms. They can typically be found in patient exam rooms, restrooms, or by request.
We recommend calling your local PHC clinic to schedule an appointment with a family planning provider to learn more about your contraception options! To find the clinic nearest to you, visit www.phciowa.org/locations.