Warm Hearts: Winter Essential Drive
Warm Hearts Drive: Filling the "Bus" with Care and Necessities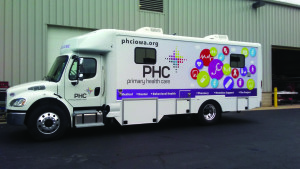 In our mission to support the underprivileged in our community, we're excited to announce the Warm Hearts Winter Essentials Drive. Our goal is simple yet powerful: to fill our mobile health unit with essential items that can make a significant difference in the lives of those who need it most.
The idea behind this drive is to spread warmth and compassion, especially during challenging times. We understand that many individuals and families struggle to access the basic necessities they require, from warm clothing to essential toiletries. With your help, we aim to change that.
How You Can Contribute:
Clothing: Bring your gently used winter coats, pants, shirts, gloves, coveralls, scarves, and hats.
Footware: Donate warm socks and shoes to keep folks feet warm and dry.
Hygiene: Deodorant, period/menstrual products, toothbrushes and toothpastes, lotions, chapstick, combs, and brushes.
Details
Thursday, November 2, from 9:00 am to 5:00 pm
Holmes Murphy South Parking Lot – 2727 Grand Prairie Pkwy, Waukee, IA.