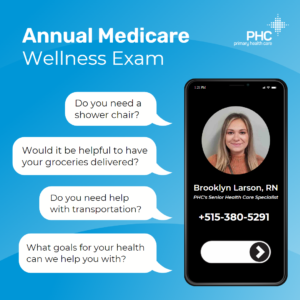 Did you know Medicare patients are eligible to receive an annual wellness exam for free? It's not a physical exam, but a 30 to 60 minute phone call or virtual meeting to discuss your health goals and ensure you are receiving the care you need.
You'll chat with PHC's Senior Health Specialist, Brooklyn Larson, RN. She'll work with you to create a personalized plan to meet your unique wellness needs.
During your wellness exam, Brooklyn will:
Provide wellness education and counseling
Discuss your health goals and what's important to you
Develop a plan of care for preventative and wellness services
Review your medication and schedule any follow-up visits
To schedule your annual wellness visit, talk to your PHC provider today or call Brooklyn at (515) 380-5291.
New to virtual appointments? Click here to get a crash course on Telehealth.
Thanksgiving presents us with a great opportunity to increase our feelings of gratitude for everything in our lives. This is wonderful for our stress levels as well as our...